I'm Hungry!
I've gotten out of the habit of creating a meal plan and/or grocery list... and I always go way over budget at the grocery store and run out of food well before I should. (This also happens if I grocery shop with a) Kevin or B) children. With Kevin, items randomly appear in the cart. With the kids, I tend to just want to get in and out as fast as I can so I fly through the aisles grabbing whatever I *think* we need.)
With two FUSSY monkeys, (ohmygosh they drive me crazy with their complaints at dinner, breakfast and after school!) and lately, no desire to spend lots of time in the kitchen, I want quick, healthy, yummy meals that will make table time a breeze. Unfortunately, when we do find something that the majority (3 out of 4 ain't bad!) enjoys, it gets added to the regular rotation and *I* get bored of it quickly. (The "men" get spaghetti and meatballs... mommy makes toast and eggs, or a bowl of cereal.)
Today I went shopping for a 10 day meal plan - with some ingredients on hand and NO COUPONS (whoops!) - $300+ later, my cupboards are full, my fridge is overflowing and there's no "hmmm, what's for dinner?" happening until next payday.
Here's what we're planning this "week":
Chicken Veggie Flatbread - think restaurant style loaded with yumminess. This is a quick one that I can do using left over chicken from a previous meals and hit's the "thanks for dinner, mom" mark because it adds variety to our rotation while playing on the pizza factor - lots of toppings, no tomato sauce or pepperoni.
Cashew Chicken Stir-Fry - This is not always a hit with the boys (not big fans of peppers) but I add enough veggie variety to the stir-fry that they can pick out what they like and leave the peppers. Served over rice or noodles.
Pulled Pork - I originally planned on ribs (they love ribs!) but they weren't on sale and little pork tenderloins were. This is my no hassle meal for the week, and while not necessarily healthy -hello, bbq sauce! - it's tasty and because I make it in the crockpot, it's "quick" (or slow I suppose, if you want to get technical.) Usually I'll serve it on buns - but occasionally with rice - and always with a side of slaw with a sesame dressing. The leftovers are great on tortillas or as a pizza topping.
Dutch Meatball Soup
- My kids don't like this. They'll eat the carrots, some of the noodles and dig out the meatballs, but on a whole, they're not really soup people. Too bad, so sad, because in this case, I don't care if they like it or not. This is a staple from my childhood and makes good comfort food. This is pretty close to the recipe I use - I always tweak it to what I have on hand. Freeze the leftovers for lunches or another quick meal.
Grilled Chicken Club Sandwiches - Easy, peasy. Grilled chicken breasts topped with tomato, cheese, bacon (or whatever anyone wants) on foccacia. Served with a side salad and I'm thinking yam fries done in my
T-fal Actifry
. Simple and delicious!
Maple Salmon
- I still haven't made this even though I've pinned and bookmarked a few recipes, usually as kebabs. (Funny side note, Justin is adamant that fishing bobbers are called "kebabs". There's no convincing him it's wrong.) This week, I'm cheating and going to use a grilling rub, Maple Peppercorn from Gourmet Village, just to keep things easy. Serving with fresh veggies and rice.
Ginger Beef & Pineapple Kebabs
- I know one monkey will definitely complain about this - he has issues with the beef texture. He just keeps chewing, and chewing, and chewing - even though he likes the taste. Weird. It's a yummy recipe though and kebabs are always fun! Just a note - I don't necessarily use the listed marinade - I use what I have on hand (usually my own.)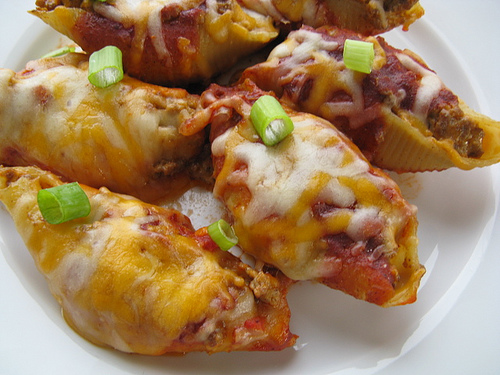 Taco Stuffed Pasta Shells
- This recipe makes a semi-regular appearance in our rotation, so we're not quite sick of it yet. The boys like tex-mex inspired and usually this will go over okay. I don't use the taco sauce but just use extra salsa on top.
Beer Can Chicken
- I've tried a few recipes and somehow whole chicken isn't my thing. I've had some that turn out AMAZING (a lemon stuffed one from Chatelaine) and the next time, it's an epic fail. I haven't tried this beer-can one yet - but they're pretty much all the same. We'll see how it goes. I'll probably serve it with mini roasted potatoes and a side salad. The leftovers will come in handy for that flatbread I listed first.
So that's my plan... hopefully the meals will hit the spot and keep complaints to a minimum. You know I love new recipes, so feel free to share your favourites in the comments below. This breakfast one got my mouth watering while browsing for other ideas this morning - I plan on serving it Saturday morning:
Yum!